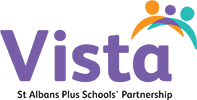 Covid-19 Update
In line with the latest advice from the Government, our offices are currently closed however we are still open and can be contacted by phone and email. Our team are supporting families as much as possible during these difficult times so please get in touch. There is a lot of information on our website that you might also find helpful.
St Albans Plus Schools Partnership has 49 schools from St Albans working together to support their children, young people and families across the district. Fleetville Junior School is the lead school for the partnership and Vista St Albans CIC is commissioned to deliver the services.
Vista St Albans was set up in 2011 and is an organisation that works with children, young people and families. By providing access to emotional wellbeing and early intervention we are able to support families through difficult times enabling our children and young people to have better outcomes. Vista St Albans clearly aims to change lives and bring families together.
(photos by John Fortune)